Imagine a close (but oftentimes negative) friend or colleague following you around for a day and voicing every unfiltered criticism that comes to mind. As you sit in a meeting and try to share your opinion, this colleague shoots down your ideas. As you work on a project or try something new, this person reminds you that you could have done better. When you falter or make a mistake, this friend berates you and starts calling you names. The criticism is constant in every part of your day, and it becomes so discouraging that you start adjusting your behavior and closing yourself off to experiences for fear of triggering more hurtful comments.
I believe if most people had a friend that acted in such a way, they might not maintain that friendship for very long. Likely after the first few critical comments, you would confront this person and tell them to back off.
But, what if I told you that this extremely negative situation happens more often than you would think? And to make matters worse, this behavior often goes undetected for years or even decades until those hurtful words influence our self-image, thought patterns, and quality of life.
Relationships and dialogues between two people often have problems that are easy to identify and address. Our own internal dialogues, however, are harder to monitor even though they have the most power and influence over our behavior. Our internal dialogues and the criticisms, comments, and limitations we dole out to ourselves daily can create a mental library of limiting beliefs ready to be pulled from the shelf and stifle our progress at any moment. Limiting beliefs often look like this:
"I can't start a business because…" 
"I am alone because…" 
"I don't have enough money because…" 
"I'd love to work on what I'm passionate about, but I need to make money." 
"I want to lose weight, but I have bad genetics and nothing I ever do works." 
"I want a better relationship with my spouse, but they never listen to me." 
Limiting beliefs are inhibiting rather than constructive, and they take up far too much space on the figurative shelf. Fortunately, in the very near future, you can begin to fill those shelves with something more useful and encouraging. In my new book, Your Life is Not a To-Do List: Tools for a More Joyful Entrepreneurial Journey, I explain my favorite tools for living positively and accomplishing your goals.
Here is a sneak peek at the number one tool from my new book. How to Blow Up Your Belief Library in Three Steps.
Step One: Love Yourself
This first step might seem easier said than done, but it is a foundational element to success. It is imperative to fully accept yourself and not just select parts of your greater whole. Love yourself for the good, the bad, the ugly, your best accomplishments, and your worst failures.
This is also a prerequisite for step two. You need to love yourself in order to be fully honest with and take inventory of your limiting beliefs. If you struggle with blocks in step one, try practicing gratitude. Consider your past failures and think about everything they taught you. Take responsibility for your setbacks, identify your accomplishments, and give yourself some much-deserved credit!
Step Two: Take Inventory
This step involves identifying the limiting beliefs that are holding us back. How else could we break down something that we don't even know exists? Here, we'll take our limiting beliefs off the shelf and index them so that we can better rewrite them.
Start by listing each limiting belief that comes to mind – the more the better. While limiting beliefs can sometimes be hard to identify, look out for tell-tale signs. Phrases that sound like, "I can't because…" or, "I would love to, but…" or, "I'm too ___ for…." are typically limiting beliefs disguised as excuses. Spend a day tracking your thoughts and exploring limiting beliefs as they arise. By the end of the day, you should have a long list of all the thoughts that are holding you back from living a joy-filled life.
Step Three: Find the Flip Side
The long list of limiting beliefs might be overwhelming, but luckily each one has a flip side. In this step, we'll break down the belief and find how we can counteract it with the underlying empowering belief.
All of our experiences in life shape us and create both negative and positive beliefs. Often, these negative beliefs serve a purpose whether it be for protection, preparedness, or avoidance, but hold us back from many positive experiences. When we find the positive thought associated with the negative thought, we break down the power that limiting beliefs have over us.
Look over the list you made in Step Two and match each limiting belief with a more positive take. Prioritize those that most resonate and check them off one by one.
Below are a few examples: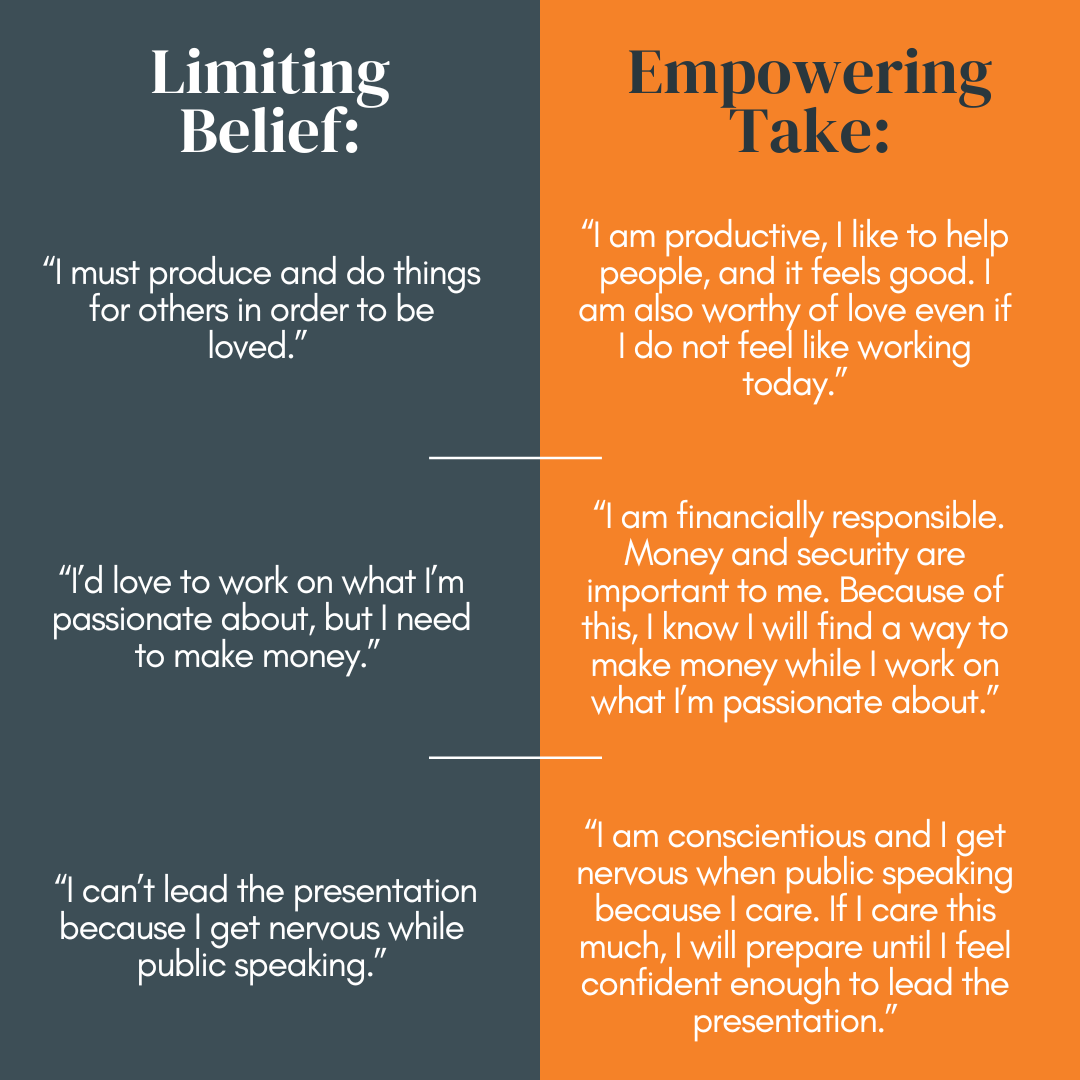 Bonus Step: Rewrite the Story
Another methodology for the same process is rewriting the stories that we are telling ourselves. The next time you find yourself having a strong reaction to one of your experiences or telling yourself a discouraging story, try these steps below:
Write the Story
Write out your story no matter how ridiculous it sounds. Be honest and authentic, and don't worry about anyone else reading it.
Example: My manager did not seem excited about the idea I shared. She must think it's a terrible concept and therefore think I am bad at my job. She might even fire me.
Define the Feeling
Specifics are key here. Avoid using generic feelings like sad or mad. Peel back the layers of your feelings and find what is really bothering you – rejection, fear of inadequacy, insecurity, imposter syndrome, shame…etc.
Know its Source
Think back to your past experiences and ask yourself if they might be influencing your story. Try to pinpoint the time when these limiting beliefs came into play.
Example: My family was very expressive with excitement while I was growing up, and so I expect other people to show excitement more outwardly.
Learn from it
Acknowledge that the limiting belief exists and keep it in mind to be more aware when similar situations occur. Understand that we create these limiting beliefs to prove ourselves right and make sense of our past experiences.
Reframe it
Find other storylines that help you debunk the original story you were telling yourself. Acknowledge that your story contained plenty of assumptions that might not be true. Stick to facts that you know are true and try to keep your source experiences out of it.
Example: My boss had a neutral reaction when I shared my idea. I have no clue if she was distracted or overwhelmed at that moment. I do not know if she was already thinking about the logistics of my idea. I do not know if she disliked the idea. I will have more information when we discuss it next week.
Let's Get Your Company Running on EOS
To learn more about tools like these, book a discovery call with me so we can start leading you to a joy-filled, empowered life. Together, we'll use the EOS framework and break down your limiting beliefs as one of the first few steps of your journey.
Book a Discover Call with Dawn Here
Map of Me
10 STEPS TO LIVING INTENTIONALLY
I invite you on a journey of self-discovery and personal growth, into ever-increasing authenticity and self-love.
I created my personal Map of Me to help guide my decisions from a place of strength. My Map of Me has awakened me to who I really am, and who I want to be. It allows me to live from my design at my highest and best, as well as plan to shore up the weaknesses—and it's given me the ability to see and appreciate the differences. I believe that all individuals should be authentic, open and able to express themselves fully with confidence—your Map of Me is your guide for
doing just that.